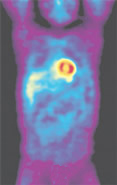 Judy is a national lecturer and practitioner in the field of Medical Intuition. She has the ability to interpret illness and disease in the body. Judy has the ability to identify the cellular blockages that create illness and disease. She uses a variety of modalities to assist you in resolving the core issues resulting in a healthier body and life.
Judy has been using her natural intuitive abilities for over 10 years. Being intuitive she can easily identify the illness and disease in the body. Many of her clients have been surprised at her accuracy.
Judy works with the core issues of the illness and assists you in releasing unresolved emotional issues that are stored in the body. We store unresolved emotional issues holographically in the body and this ends up causing blocked energy which in turn causes illness or disease.
This process works without you having to deal with old memories. The memories stay in tact, but the unresolved emotions that are attached to them are released. In letting go of past issues, you are then able to enjoy a new way of looking at life and creating a better future for yourself.
Judy can work with you on an individual basis or in a group. She facilitates workshops giving you the tools to heal your own body on a physical, mental, emotional and spiritual level. Judy teaches a Healing Within Workshop and also does Cellular Cleansing Workshops.