Welcome to the Alternative Changes Store.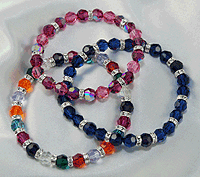 I have written a set of books describing tools for healing and creating your best life. By clicking on the buy now link, you will be taken to Amazon.com, where I can offer you the best pricing.
I have also created a line of Angelic Intervention Jewelry that will enable you to connect with specific Archangels and Ascended Masters to allow healing to take place.
Begin by looking at all of the Archangel and Ascended Masters pieces and see which one you are attracted to by color.
Read what the Archangel or Ascended Master's purpose is and how they can help you. You will then understand why you are attracted to certain pieces.
If you do not trust your intuition and knowingness enough to pick your pieces of jewelry, just call me or

This email address is being protected from spambots. You need JavaScript enabled to view it.

and I will intuitively tell you which pieces are best for you.
Enjoy Shopping!
Judy